Audi is introducing technology that will allow its cars to communicate with traffic lights, the manufacturer has announced.
It will tell drivers when lights are due to turn green and when they will not make it before a light turns red.
The firm said it was meant to make driving less stressful, rather than as a safety aid, it was reported.
It will require a significant investment to make it viable in the UK, one expert said.
According to Audi, the "vehicle-to-infrastructure" or "V-to-I" technology has been introduced in A4 models built after 1 June this year and will be put into some Q7 models next year.
The Volkswagen-owned firm said safety and other operational information will be wirelessly transmitted between traffic lights and vehicles over the cloud.
Although it is hoped that the tech will eventually help mitigate crashes and reduce congestion on roads and highways, Pom Malhotra, the general manager of Audi's connected vehicles division, told reporters: "This is designed not as a safety feature, but a comfort and convenience feature."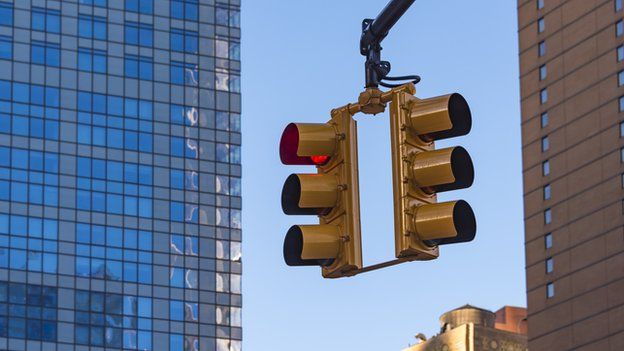 Audi's system allows the vehicle to display a countdown before a red light turns to green. Knowing how much time one has before the light changes to green will relieve much of the anxiety of waiting. It will also cause drivers to pay attention as the light is about to turn, Malhotra said.
The countdown will also tell drivers when they are not going to be able to make an approaching light before it turns red, thereby signalling that the driver should start to brake.
Future applications of the technology could see it linked to the car's navigation system or its stop and start functions, the Reuters news agency reported.
Another possible eventual use is that traffic signals could advise the vehicle to keep to a certain speed in order to match the flow of traffic lights, Audi executives said.
The firm plans to roll out the capability in between five and seven US cities one at a time this year, although the company would not disclose which would be first.
Audi has pioneered the use of traffic light recognition technology and is looking to expand on its work, said Aston University's professor of industry David Bailey.
He told the BBC: "It could bring benefits in easing journey time. For example, if you are driving through a city at a quiet time of day with little other traffic, the lights could switch to let you through.
"We would need to see a substantial investment in infrastructure here in the UK to make such technologies workable.
"Longer term, though, we are looking at the development of connected and autonomous cars that will communicate with each other and the infrastructure around them."
Can men really be shown how to be Irresistible to woman. Find out why men are flocking to find out how 
Read More…
Today you can learn how to build a 50MPH electric bike using parts available online
Read More…
You don't need any coding or even a developer account. Anyone who can follow simple directions
Read More…
After years of development and months of live beta-testing the ZCode™ software goes LIVE!
Read More…
Break-through organic gardening secret grows you up to 10 times the plants, in half the time, with healthier plants
Read More…
Find out from thousands of programmers how they created their own programming language 
Read More…
You can be the life of the party by creating an inexpensive awesome Iron Man costume in just a short time. 
Read More…
Certification Exams Questions & Answers Of Leading Vendors Including Microsoft, Cisco, Oracle, Ibm, Hp, Vmware, Comptia And Many More.
Learn how to level your World of Warcraft character solo from level 1 to 110 the Fastest Way Possible.
See his formula call the Trifecta MobiApp Domination to carve a piece of the $400 billion mobile app market!
Learn the same revision schedule used to get an A* in GCSE maths and do it a year early!
Humans have evolved to breath Argon,  the sea boils with the continents shattered into primordial throwback!
A much watch video on how to survive the future no matter who wins the next election.
Set up your own home surveillance for almost not cost out of pocket.
Our you one of the millions? Take the test and find out if your addicted to social media
Popular online company explores 7 out of the top 10 legitimate work from home jobs available.